Furry Bambino Foster Academy (FBFA) campus is located in a suburban Cleveland Ohio residence. The Academy has a private carpeted suite, complete with full-service Cafeteria. Water and dry food are available at all times. Wet food is served twice daily.
Tasty snacks like Chicken Baby Food are also offered.
There is a window for bird TV and squirrel TV viewing. Bar stool and window sill seating are available.
There are toys galore for recess and physical education.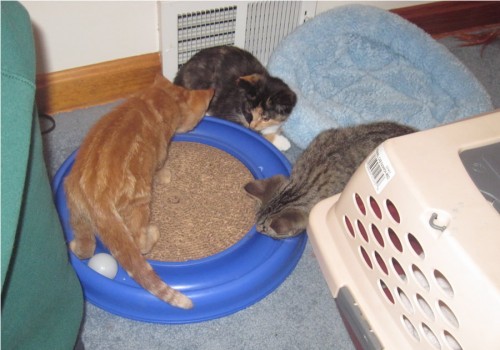 Games of Red Dot are always a favorite.
Sometimes our students create their own games! Here, Niecy (left) and Trish (right) play inside the Alpine Scratcher toy.
We encourage all students to express their inner kitten! Hunter enjoyed wearing the orange boa toy.
Cuddling with the Human Staff is also encouraged. Marigold and Woody are sitting in Dad's lap.
Rico also enjoyed practicing his sitting in a human's lap skills. Rico frequently bathed and napped while sitting in Dad's lap.
Ample hidey holes serve as napping locations, as well as comfortable retreats when privacy is desired. Sky (top) and Silver (bottom) enjoy the double-decker condo.
Sunny enjoyed hiding out in the pink ManKitten Cave during his stay at the Academy.
Ample restroom facilities are available, and are cleaned twice daily.
The Dormitory is supplied with cushy beds for kitten comfort and rejuvenation. Cookie is demonstrating use of the lower shelf as a sitting area.
Silver and Sky are demonstrating cuddling in the Pink ManKitten Cave.
Marigold and Rusty catch a catnap in a pink cushy bed.
Sunny and Sky cuddle together in a blue cushy bed in front of the heat vent.
---
We are currently accepting applications for Spring 2011 Kitten Season! Apply today! Call 440-442-PAWS to be considered for enrollment. Or apply online by going to the PAWS web site.
---
Established in June 2009, Furry Bambino Foster Academy (FBFA) is a private boarding school specializing in the care and upbringing of foster kittens and cats. FBFA is affiliated with the animal rescue group PAWS Ohio, which helps with graduate placement services. Upon graduation, all graduates will have earned their Furry BFA (Furry Bambino Foster Academy) degree.

---
Click here to go to the Furry Bambino Foster Academy home page.
Take a virtual tour of our Campus!
See what Courses we offer!
See Yearbook Photos and read bios of Faculty and Staff!
See Yearbook Photos and read bios of FBFA Graduates!
---