Well, our snow has finally all meltified! (Unlike Millie who still has some snow in New Hampster.) And there are tasty-looking birdies chirping outisde! And there are even some dainty-looking flowers that are starting to grow. So maybe Spring is finally here in O Hi O (as Parker would say)!
See, here is some evidence. The yellow flowers are crocuses, and the green thing may be a hyacinth (it's hard to tell now):
This weekend, the sun was shining, the sky was blue, and it felt warm for the first time in a really long time! Daddy and Mommy opened the windows for us to get a good sniff.
Luckily, there is one window pane for each of us.
On Saturday and Sunday, Mommy took us outside into the back yard. We are not allowed to go outside unless we are on our harnesses and leashes, and Mommy or Daddy has to be with us at all times. I enjoyed sitting on the back porch, taking in the sights, sounds, and aromas.
Our harnesses feel kinda funny, so when we got outside, we just kinda sat still and sniffed.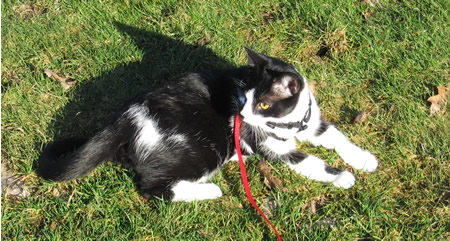 We did get to listen to the birdies and see them flying around, so we had a great time!
Except for Meerkat, who seemed to be a little bit anxious the whole time. The look on her face and the position of her ears says it all… "Let me back inside!"