hey efurryone!  did you ever notice how lame our humans can be sometimes?  like how much they state the obvious?
here's an example.  mom came up to me this morning and said "Meerkat!"
like, duh.
"Little girl!"  said dad.  um, yeah, i am a female feline.  and yes, i am petite.  sigh.
there is actually a great cartoon that summarizes this for all of us kittehs. (be sure to hover your mouse over the cartoon for additional commentary by the author.)
CAT PROXIMITY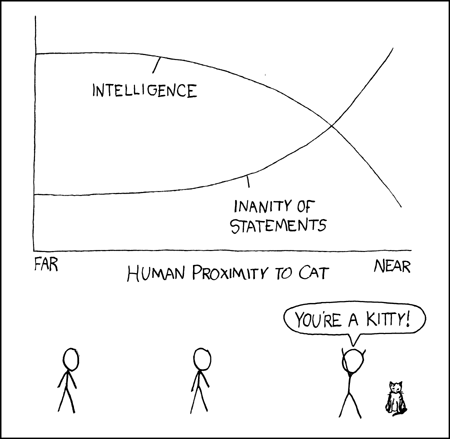 xkcd.com
unfortunately, mom saw this cartoon.  then she showed it to dad.
instead of taking the hint, and speaking to us like the intelligent beings that we are, now mom and dad are walking up to us kittehs, and saying (you guessed it):
"You're a kitty!"
sigh.
do your humans also have this vocabulary problem when near you?