happy new year efurryone!
daddy and mommy are home again today, and they are busy in the kitchen. as max the psychokitty would say, there are all sorts of real live fresh dead things in the refrigerator.
things like choreeeeeezo (that's how mommy says it.  daddy says its spelled chorizo.):
and scallops:
there are also clams: 
and shrimpies:
and of course, chicken boobs:
my brother wanted to help verify that the scallops were good, but he got too close to the flashy box.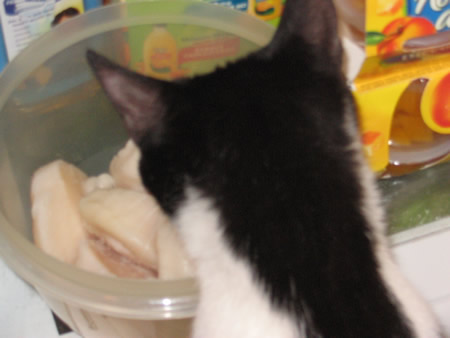 so he just tried to do a refrigerator inspection instead …
daddy gave us some shrimpies just for us to eat. 
he ground them up and made them easier to eat for us, and here's what we thought of them:
the photo doesn't tell the real story.  actually, padre was just sniffing it.  he didn't actually eat any EITHER. 
maybe mommy and daddy didn't know how to make it right.  max raves about real live fresh dead shrimp, but it just didn't do anything for me. 
daddy and mommy had all these ingredients because they were making something called pie-ay-uh.  it sounded spanish, but i did not know how to spell pie-ay-uh, so i asked padre, since he is fluent in spanish. padre told me that you spell it "paella".
daddy has his mommy's recipe to make paella. it is a puerto rican/spanish/medituhrainian dish with rice and lots of fishies in it. daddy's daddy is from puerto rico, and daddy's mommy makes a really tasty paella (at least daddy and mommy think so). we will post gramma's recipe for paella at the end of this post.  this was the final result:
we weren't allowed to have any because it has onions in it!  🙁
ok. here is gramma's recipe for paella. (daddy made it into a pee-dee-eff file so you can download it.)