Hello Furriends! Sunny here! I am also repurrting on behalf of my brother Sky.
That's me in the tube, and Sky down below.
Today is a Big Birthday! Sky and I are two years old today! You may remember that there are six of us in this litter, so that means our sister (Marigold) and brothers (Hunter, Rusty, and Woody) are two years old today too! Hunter is in Dad's lap, and that's Woody, Rusty, Marigold, and Sky on the floor. They were enjoying a snack of Baby Food! The photo is from October 2010 when we were about 3 months old.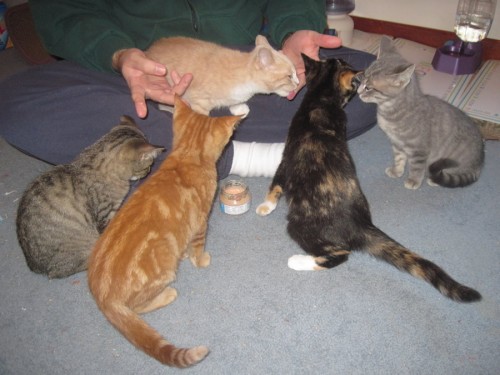 Happy Mother's Day, Mommy! Mama Rose (feral) still visits us every day and hangs out on the porch. Human Mom and Dad feed her every single day.
You can all come over for a Game of Thundering Herds of Elephants, enjoy some Stinky Goodness, People Tuna, People Salmon, Niptinis and Meowgaritas (milk for the kittens), and enjoy some Nap Action when you want to rest.
Thanks for visiting us! Be sure to visit The Tabby Cat Club today to see photos of our Birthday Toesies!