With great sadness, we report that our beautiful little tortie girl Samoa went to the Rainbow Bridge on Monday, October 24, after a brief but severe bout of pneumonia. We are still in shock as it seems just yesterday she was bounding up and down the stairs. We greatly appreciate the purrs and purrayers from family and friends.
Samoa came into our life in April of 2015.  She was rescued by a dear friend from Slavic Village, along with her four kittens, whom we named Ginger Snap, Peanut Butter, S'mores, and Thin Mint.  S'mores is the only girl and her tortie markings look just like her Mom Samoa!  Ginger Snap is an orange tabby, Peanut Butter is white with orange tabby markings, and Thin Mint is solid black. This first photo is from our first meeting with Samoa and her 2-day old kittens. The second photo is just a week later, and her kittens have grown so much that they look like they are smothering her tiny 7-pound body.
In addition to her own litter of four kittens, Samoa cared for four "Cowboy Kittens" (Cassidy, Clementine, Harlee, and Sadie) for a few days until their Mama Mae West was rescued, and could resume her motherly duties. Mae West was particularly elusive, and now resides with a dear friend.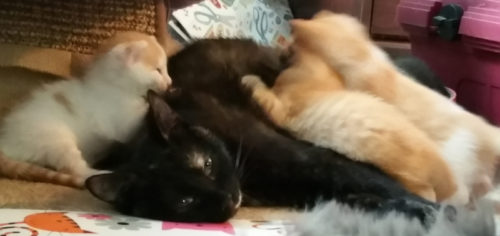 No sooner than Mae West began nursing her four Cowgirls, than a 2-day-old kitten abandoned by his mother was found in the Waterloo neighborhood. We named this kitten, Snickerdoodle, and he was readily welcomed by Samoa into her little family. Snickerdoodle is mostly white with orange tabby markings, and closely resembles Peanut Butter, so he really looked like part of the family!
Finally came the "Charlie Angels" kittens.  Although Jaclyn Fluff, Farrah Fluff Major, and Kate Fluffson did not resemble Samoa or her own babies, they were also lovingly accepted by Samoa and treated as her own. The three black and white tuxedo kittens were rescued from the home of dear friends who have their own little feral family in their garden. By rescuing the tuxie girls, the hope was to give them safe and loving indoor homes, so they were rescued as young kittens close to weaning so they would be easier to socialize.
Samoa was a good Mom (and surrogate Mom) to a total of 12 kittens … patient with her kittens' antics, and training her babies how to be Good Cats.
While confined to the "back kitten room" (back bedroom), Samoa gradually became comfortable with Sue and would allow Sue to pet her on rare occasions. Samoa would rub against Sue's legs and was pleased to accept treats. However, Samoa was still easily startled and would hiss loudly when Sue or David moved too quickly or without advance notice.
The orange marking over her left eye made Samoa appear as if she was always raising her left eyebrow at us, as if to ask "What now?"
Over time, after Samoa raised her babies and they started to get adopted, we let her into Gen Pop (gave her full run of the house) with The Furry Bambinos.  Samoa was still a foster with us, and would hide when we needed to take her to adoption events.  Finally, David stated the obvious as we rode to the third consecutive adoption event without Samoa because we could not catch her.  "We may have just adopted our eighth Bambino."  Shortly thereafter, we discussed it over dinner and concluded that she was happy here with us.  "Let's just adopt her."  And that's how Samoa officially became a Furry Bambino, in early 2016.
Samoa (aka "Shmo") fit in with The Furry Bambinos very easily.  She seemed content to be the low girl on the totem pole of the cat hierarchy.  She stood in the background and didn't seem to care if she was the last one to be fed treats.  She never started fights, and always used the litter boxes.   She regularly helped the other Bambinos on "Bird Patrol" and "Squirrel Patrol" from her favorite position in one of the "tubes" of the cat furniture.
She also liked to explore.  A few times a week we could guarantee hearing a loud "thump" coming from the basement.  It was usually Samoa landing on the washing machine after jumping down from exploring the crawl space under the family room. She would emerge with her whiskers covered in cobwebs, then dash off upstairs.
For a long time, she would only eat breakfast by poking her head out from the chair covers in the dining room.
But over time, Samoa became more comfortable and would eat out in the open.  During our morning feeding routines, she began to occasionally brush up against David's legs, and he got so he could stroke Samoa across her head and back after giving her a food dish.
The rest of the time, Samoa usually kept her distance from us.  If we came within more than 24 inches of her, she would abruptly dash off to another part of the house.  She would sniff a hand extended to her, but we had to move slowly, or else risk a loud snake-like hiss of fear before she dashed off. There were a few rare occasions that Samoa would snuggle with Sue on the sofa.
Samoa made friends with Panda Bear, our friendly tuxedo cat.  All the cats in the house, and especially our fosters and former fosters, love Panda Bear.  Samoa would walk beside him, brush up against him repeatedly, sleep beside him in the front window or on Sue's legs on the sofa, and eat next to him.
In Samoa's last nights with us, we had her sequestered to a large cage in our family room so we could closely monitor her and care for her.  Panda Bear walked into her cage, and even in her weakened state Samoa reached her head over to brush against him.
Samoa also had become a play friend for little Farrah Fluff (another new Furry Bambino, c. 2016).  Samoa and Fluff would chase each other the length of the house, back and forth, chomp on each other and bunny kick each other's heads, and then dash off with wild abandon.  They both seemed to enjoy the play time.
On Sunday evening, the night before Samoa passed, Farrah Fluff reached a paw into Samoa's cage to tap (maybe pet?) Samoa on the head, and then came around from another angle to tap her friend on the side.  Fluff was obviously checking in with her friend to see how she was doing.
We are so happy we chose to adopt Samoa.  We were honored to have been Samoa's guardians for the relatively short time she was with us. We did our best to keep her well fed, safe, and happy despite her efforts to avoid us.
We wish we had known earlier that she was ill.  Cats have a way of hiding their illnesses until it's too late to save them.  It's so frustrating to know we might have done more for her.  We had her at the veterinarian on Saturday, and by late Monday afternoon she was gone. Sue has the lyrics of the Hall and Oates song "She's Gone" running on a loop in her head.
It's amazing that such a little cat could leave such a big hole in our hearts.  We hope that Samoa will be waiting for us at the Rainbow Bridge. When we get too close, she will probably dash off to hide.  So long as we see her there, that's all that matters.
Until we meet again, Sweet Samoa.  We love you!