Happy New Year Efurrybuddy! The Furry Bambinos and I (Caramel, AKA Ms. Floofs) received a terrific package from our furriends DaisyMae Maus, Charmee, and Sparky Fuzzypants all the way across the country in sunny Catifornia!! Thank you so much DaisyMae, Charmee, and Sparky!!  Here I am sniffing the package.
Panda Bear dived inside once Dad got the package opened.
Panda Bear opened the card and read it to us.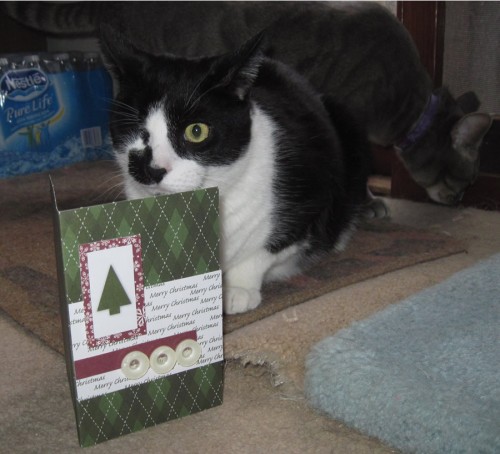 Look at all the wonderful presents!
Sunny sniffed the presents in the pretty blue wrapping paper.
Panda Bear is REALLY into nip!
He's even licking nip flakes off the lid!
When Panda Bear gets really excited, he claws the carpet with gusto! That's the effect nip has on him.
My sister Cookie sniffed the cute little mousies! We have been carrying those around and practicing our Mouse Patrol techniques with them!
We loves Temptations! Thanks for sending us Fishy Flavors! Meerkat is asking for more. Nom nom nom …
Thank you so much for sending us The Red Dot Maker! It is the one toy that gets all of us moving! Meerkat is stretching out to smack The Red Dot.
Mom put all the presents on the table and took a photo of them all together! We can't wait for Mom to start that cat grass growing! We ate the Purina One Turkey yesterday! Mom loves the dove pin, jingle bells, and the yummy chocolates! What a generous gift!
Meerkat claimed the box! (The rest of us are a little too "well-endowed" to fit inside the box.)
Even Senior Catizen Padre got off his Gizzy Quilt to join in and play The Red Dot! Padre says Thank You!
My sister Cookie is really into wrapping paper. She likes to lie on it, play with it, and nap on it. Cookie says Thank You!
Sky says Thank You! (Especially for the Temptations.)
Sunny says Thank You!
Panda Bear says Thank You! (Especially for the Nip!!!)
On behalf of The Furry Bambinos, I say Thank You!!!
What a terrific present!!!
A huge Thank You to Mom Paula, Truffle, and Brulee for coordinating Secret Paws!!!