In our final Birthday Post for Cookie and Caramel's First Birthday, we decided to post some Baby Pictures! We must warn you, you may need to protect your ears from excessively loud SQUEE-ing on the part of your humans.
OK, don't say we didn't warn you.
Mom got the photos from Mama Gina, the kittens original human Mom. The photos are labelled as Kittens with a number after it, so we think the number is the number of days old the kittens are in the photo.
On day 1, this is the four babies (all females). Caramel is the one on the top of the photo, and Cookie is underneath the pile. You can just see her gold flame mark on her forehead.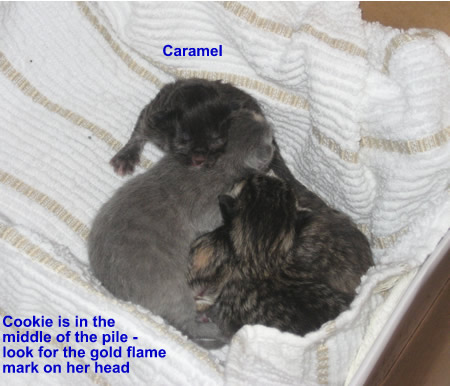 This next photo shows the four little girls at day 15. Cookie is on the far right at the top, and Caramel is at the far right on the bottom.
This day 21 photo shows the girls nursing and shnuggling with their biological Mom. Caramel is looking directly at the camera. Caramel was exhibiting her Diva-in-Training qualities from a young age. Cookie is above Caramel – just look for the gold flame mark on her forehead.
Get ready to SQUEE efurryone! This next photo on day 36 shows three of the girls cuddling together. Again, Caramel is looking at the camera. Notice that her eyes are still blue and not their gold color! And you can see her gold toe on her left front paw! Cookie is at the bottom of the pile, in the foreground of the photo. Note how large her gold flame mark looks compared to how tiny her little head is! Their sister kitteh (grey kitteh on the left with her chin on Cookie's back) has a gold flame mark on her forehead, too.
This final photo, taken day 48, shows little Cookie looking into the camera. Oh my SQUEE! Isn't she just ADORABLE?! Look how blue her eyes are at this age!
* * * * *
Caramel and Cookie say: "Thank you so much for attending our Coming-Out Party! We enjoyed meeting all of you! Mom is happy to make a nice donation to the Humane Society thanks to all of your comments!  You can continue to comment on any and all of our birthday blog posts through next Wednesday to be included in the count toward the donation. We will be thanking each of you purrsonally over the next few days by visiting your blogs!"
Please leave us a comment to tell us you were here! In honor of The Girls' birthday, Mom is going to donate $1 (US) to the Humane Society of the United States for each comment received on any of their birthday blog posts. All comments must be received by 11:59 pm EST on Wednesday, March 10, 2010.
In addition, one lucky winner will receive a Gift Certificate to The Animal Rescue Site store! To enter, leave us a comment on any of The Girls' birthday posts! One chance per household will be entered. We will have one of us draw the name of the winner on Thursday, March 11, 2010, in the evening EST. All comments must be received by 11:59 pm EST on Wednesday, March 10, 2010.
Party On, Dudes!